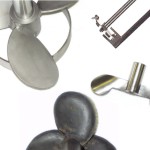 Special mixing impellers that meet specific requirements for flow, mixing, aeration or cleaning
In addition to its large standard program within impellers, Diaf Pilvad also has a wide range of special impellers.
These impellers range from small folding propellers to stirring of products on standard barrels, to large snail organs used for crust mining in biogas plants.
We also supply specially treated agitatora shafts and impellers, e.g. rubberized, PTFE coated or hard chromed.
If CIP (Cleaning In Process) is required, we have axles and impellers that have been developed for this purpose. These can also be used for aeration while stirring or if the process requires the added product to be introduced directly into the stirring point.
Furthermore, we have a large program with scrabers and baffles (circuit breakers).
If a special flow in the tank is required, we have many different impellers for that purpose. But, we shall gladly participate in the development of just the flow and the mixture, you require.